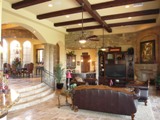 In 2004, Brent Hollanti, construction expert, saw a problem with the custom home market in Arizona. There were too many home builders that were not listening to their clients and meeting expectations. Brent kept hearing that the building process was taking much longer than expected and that builders kept coming back to their clients asking for more money or putting in substandard products to save a few bucks.
That is when Hollanti Custom Homes was born. Brent decided to create a company with a different approach. Listening to his clients wants and needs, personally guiding them through the entire design process in order to maximize their homes potential and staying on budget. Never having to go back to the client asking for more money unless the client themselves had changes and doing all this while still staying more affordable than other builders.
At Hollanti Custom Homes we strive to give our clients Luxury at an affordable price. Priding ourselves on our personal service, excellent quality and delivering your home on time and on budget.

Founder - Brent Hollanti
Construction expert Brent Hollanti, has over 24 years experience in the construction industry. Working his way up from the bottom, Brent, has had hands on experience in all aspects of building. Starting in the industry pouring concrete and framing, then continuing on with drywall, roofing, trim work and all the other steps required to build a quality home. He then did design and structural work for 5 years learning the key elements to building a strong, safe, efficient and livable home environment. Spending many hours touring homes all throughout the valley learning not only what clients want and expect but fine tuning his skills and perceptions in order to give back to his clients what he has learned over the years. Making their homes an incredible living experience and to maximize their profit potential.

Brent personally oversees every phase of home design and the building process to ensure that your unique lifestyle and home will maximize their potential. Making sure that your home captures all that your specific lot has to offer, whether it is views, unique landscape or simply maximizing space. Brent Hollanti is always available to ensure the fulfillment of your dreams.